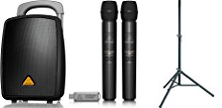 Amitie.lu offers a portable loud speaker for rent (50 euros/day).
The loud speaker consists of a portable speaker (12 hours autonomy), 2 wireless microphones (can be used at the same time), 1 wired microphone, 1 tripod, 4 rechargeable batteries, 1 power cable.
The maximum distance for both wireless microphones reaches 110 meters. This portable loud speaker can serve various audiences (up to 250 people). In addition, bluetooth allows to stream audio from almost any mobile device. Overall, perfect for presentations, conferences and diverse activities.
Terms and conditions are completely in accordance with the requirements for translation headsets.
Your booking can be made via the calendar below. Every day corresponds to one booking. That is, if you order for two days, you should make two bookings in total. Later you will receive two confirmation emails regarding your order.